Hinds River
It's not good enough!
Tucked in between the Asburton and Rangitata rivers is the little Hinds River. Once not too many years ago the Hinds supported a superb small stream brown trout fishery, small fish but good fun. It was one of a network of streams and rivers in Canterbury that provided the recreational angler the opportunity to enjoy their sport, indeed anglers traveled from as far as Christschurch to enjoy this pleasant small stream fishery, and for the tourist angler it provide an option when other waters were high and dirty or the Nor Wester meant the back country waters were not an option
Then a few years back the little fish all disappeared, a few hardy adults struggled on but eventually also succumbed.
Initially I concluded it was the result of a dry summer, but the fish never came back, even when flows recovered in wetter years. It seemed something was interfering with the reproduction cycle, there is research that shows a link between poor survival of salmonids during egg incubation and high nitrate levels... could this be the problem here?
Has the high level of nitrate leaching from agricultural activities in the catchments risen so high that the river is now too toxic for trout? It certainly looks that way
More recently the Canterbury Water Management Strategy was set up - the strategy promised lots, a win win community driven approach to water management with apparent environmental goals
March 2014 sees the results of all of this collaboration with the ZIP (Zone Implementation Plan) released.
Some 64 pages later hope and expectation are low - There's a win alright, agriculture gets 30000 hectares of more irrigation, the environment is sentence in the short term to sees nitrate levels continuing to rise before a slow decline after that, taking a total of 21 years to meet targets.....
Lets make sure we are on the same page here. The cause of the decline of the Hinds Fishery is directly related to farming activity in the catchments, there are no other industries to speak of, it's only farming. Rising Nitrate levels mean the Hind river sits above the 3.8 mg N/L that is recommended as suitable for trout. An increase in abstractions from linked groundwater sources has reduce flows. Also contributing to loss of flow has been the change from flood irrigation to spray irrigation (Can't fault the agricultural community for that! - efficiency gains have to be considered a plus)
The plan to reduce these environmental effects is to require farmers to reduce their inputs, move away from linked groundwater takes and recharge the aquifers with clean water to dilute the nitrate levels by about 2035...
It's not good enough!!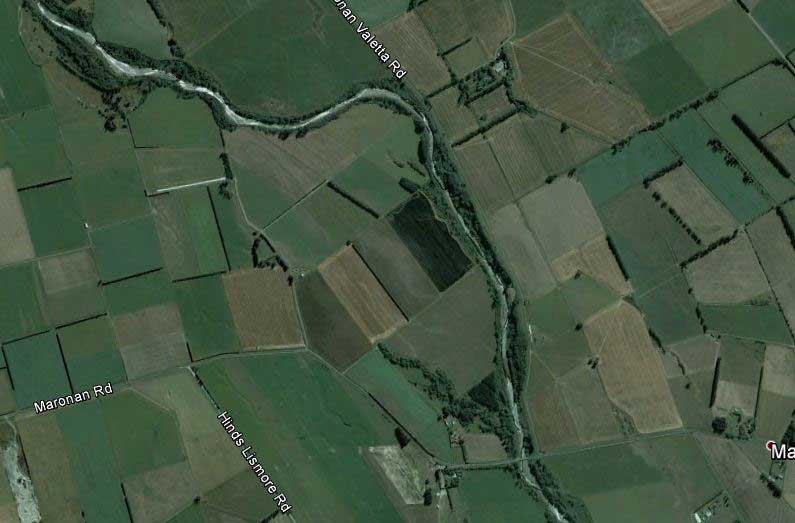 The little Hinds River cuts a trail through the patchwork of farmland in Canterbury
Steve Gerard
Trustee
Future Rivers